Trade Tayo! Season 1
Season 1 Episode 1: DTI Outlook for 2021 (Part 1)
Season 1 Episode 2: DTI Outlook for 2021 (Part 2)
Season 1 Episode 3: Business Name Registration
Season 1 Episode 4: COVID Updates
Season 1 Episode 5: Intellectual Property
Season 1 Episode 6: Negosyo Centers
Season 1 Episode 7: MSME Programs
Season 1 Episode 8: Philippine Standards
Season 1 Episode 9: Standards Conformity
Season 1 Episode 10: Upskilling/Reskilling
Season 1 Episode 11: BPS Testing Laboratory
Season 1 Episode 12: Construction Industry Authority of the Philippines (CIAP)
Season 1 Episode 13: Consumer Protection
Trade Tayo Vlogger Edition
Trade Tayo Vlogger: Shared Service Facilities (SSF)
Trade Tayo Vlogger Edition: DTI Updates
Trade Tayo Vlogger Edition: Pangkabuhayan sa Pagbangon at Ginhawa
Trade Tayo Vlogger Edition: Consumer Protection
Trade Tayo Vlogger Edition: Service Caravan and DTI Updates
Trade Tayo Vlogger Edition: Livelihood Seeding Program – Negosyo Serbisyo sa Barangay
Trade Tayo! Season 2
Season 2 Episode 1: Avoiding Scams
Season 2 Episode 2: Iwas Dugas: Paano maging isang Smart Online Shopper?
Season 2 Episode 3: Naloko? Hindi Masamang Magreklamo
Season 2 Episode 4: Ligtas at Dekalidad: Consumer Act & Sustainable Consumption
Season 2 Episode 5: Pasiglahin ang Negosyo sa Small Business Loans
Season 2 Episode 6: Negosyo Booster: Dagdag Puhunan Sa Iyong Kabuhayan
Season 2 Episode 7: Negosyong COVID-ready, Puhunan mo ay Creativity!
Season 2 Episode 8: OpportuniTREES: Coconut Business Ideas
Season 2 Episode 9: One Town, One Product: Kultura't Ekonomiya, I-Level Up!
Season 2 Episode 10: One Town, One Product: Straight to the Top!
Season 2 Episode 11: Kontra-Pirata: Paano Protektahan ang Iyong Creative Expressions
Season 2 Episode 12: How to Jumpstart your Startup: Things you need to know about startups
Season 2 Special Episode: Digital Taxation: Usapang Biz with the Tax Whiz
Trade Tayo! Season 3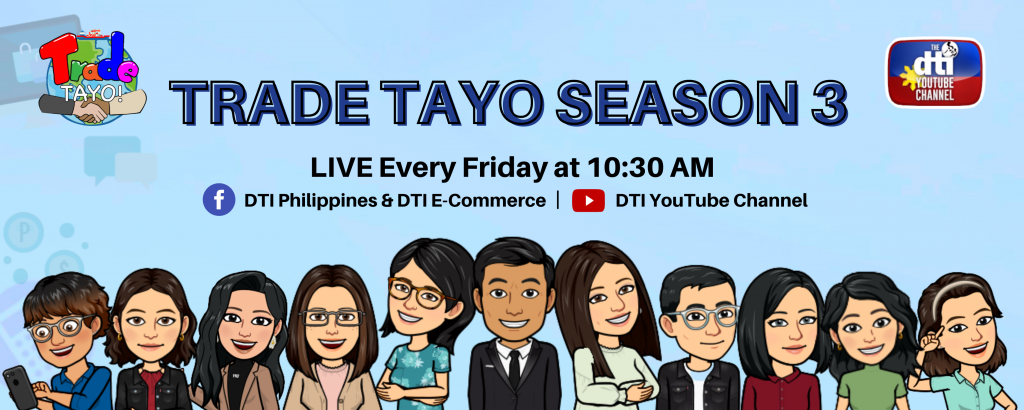 Season 3 Episode 1: Christmas in our Carts – Shop Smart Online
Season 3 Episode 2: PM is not the key! Do's and Dont's of Online Selling
Season 3 Episode 3: Cash-lite is King – From Physical to Mobile Wallets
Season 3 Episode 4: Expectations vs. Reality – Digital Safekeeping made easy
Season 3 Episode 5: Orders Across Borders – Palawakin ang Negosyo Mo
Season 3 Episode 6: How it started, how it's going: Guidelines on Online Businesses
Season 3 Episode 7: Copy-wrong? How to Avoid Plagiarism, Piracy, & Copyfraud.
Season 3 Episode 8: PETmalu: Pivot…Embrace Technology
Season 3 Episode 9: P'wede Konek? Improving Internet Speed across the Philippines
Season 3 Episode 10: Track and Trace: MamSer d2 na p0 me
Season 3 Episode 11: All Onboard! Move Business from Offline to Online
Season 3 Episode 12: Sana ol: Online Loans by SBCorp